Inside adesso
2. February 2023 By Attila Papp
How I prepared for my certifications - an empirical study guide
Nowadays, many certifications are available to choose from, involving various topics from many organizations. All the significant hyper scalers, AWS, Azure, Google, etc., have multiple exams. One could categorize them by levels (Associate Architect, Professional Architect) or by specialties (Security, Data analytics, DevOps, etc.). Moreover, all the significant technologies have their own (Kubernetes, Hashicorp Vault, Terraform, etc.), or even you could be specialized in specific focus areas (FinOps, SAFe, etc.). When you are just starting and thinking about pursuing your first certificate, choosing the right one could be a challenge. This blog post will tell you about my experience and recommendations and give you a simple yet practical study guide.
Choosing your first certification could be a question, but what's out of the question is what benefits it will bring to you. First, it helps you distinguish your resume: finding projects or applying for a new job will become easier. It also shows the commitment and effort you were willing to put in to achieve your goals. Finally, a certification showcases your expertise in a particular skill, and along with experience, it generally helps you earn a higher salary. Based on this, we can agree that it is worth looking at your options and their differences.
The following collection is in no way complete; it is just a list of certifications that I did and my experience with them. If you have any questions, please feel free to reach out directly on LinkedIn.
My first one: Certified Kubernetes Administrator (CKA)
The first one is always special: I went for this in the summer of 2019 (it just expired). If you are working with Kubernetes, this is the pinnacle of showcasing your expertise. It is a very comprehensive, hands-on exam. They test you for 2 hours with multiple-choice questions and live exercises. It is valid for three years, with the bonus of one free retake if you fail your first attempt.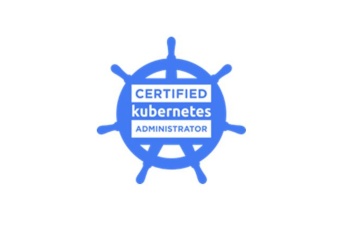 I prepared using Mumshad Mannambeth's (KodeKloud) course and used their team's practice exams available at that time. I recommend it because you get to practice hands-on skills as well. Also, taking a vim course as well gives a massive time savings during the exam.
There are other flavors: Certified Kubernetes Developer and, more recently, Certified Kubernetes Security Specialist. The developer option should give you a narrower set of topics and more focus on development-related tasks, so that might be recommended if you are just starting with Kubernetes or are only interested in the developer side of things.
AWS Landscape
Being one of the largest hyper scalers and trendsetters, they offer various exams for every level and expertise relevant to a cloud journey.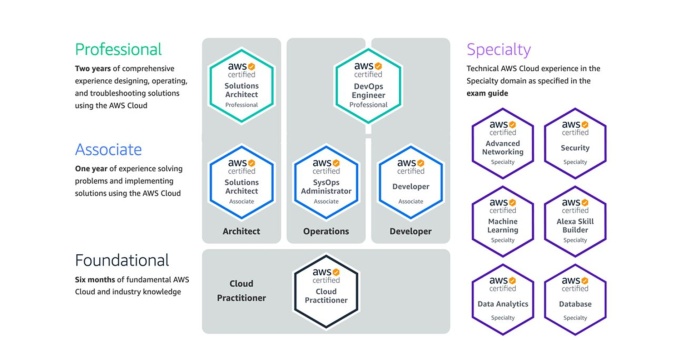 I went for the AWS Certified Solutions Architect – Associate and later the Professional exams, and this is the experience I had:
A broad overview of AWS: Certified Solutions Architect – Associate
This exam gives a broad overview of many AWS services, and I think it is a good base when you have some understanding of cloud concepts but have not yet had any experience with AWS. Or at least, that was my case. This is 130 minutes long, multiple choice/response exam with no hands-on exercises. It will test you on a wide variety of AWS services, not so deep, but deep enough that you can remember them when working on a solution. It has 65 questions, so there is a bit of time pressure, but nothing serious.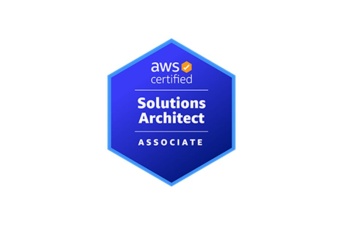 I prepared using "A cloud guru's" course, which has auto demo environments and live lab exercises. I found this particularly useful because I didn't have to spend time setting up the exercises just to get started. I could jump in, even when I only had 30 minutes to practice. Also, in that case, there are no unexpected bills if you forget to turn off something. Another very popular option is Adrian Cantrill's course, which is much longer, but gives you deeper explanations and connections between topics. I have not yet tried it, but some of my colleagues did, and they always had very high praise for it. You cannot go wrong with either of these two.
Deep knowledge of AWS: Certified Solutions Architect – Professional
I did this exam a month ago, so I have recent memories. It requires much-much more profound knowledge than the Associate level. It will test you on the same wide variety of services (or even a bit more), but now not just on the surface and mid-level, but more deeply. It is said that they recommend it only when you have 2-3 years of experience working with AWS before going for it. It is 180 minutes long, with multiple choices and no hands-on exercises. The certification is valid for three years.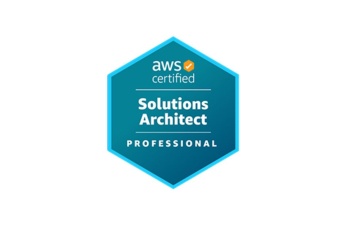 When preparing, I used Stephen Marek's course, which is very short, and to the point. I did not have much time, so that is why I went for this option – and I did not regret it. Although, I must admit this could be a bit hard if you don't have practical experience. One of my friends chose Adrien Cantrill's course, and compared to Stephane's, it is a bit more thorough in terms of the explanation. It also has lab exercises, so if you have the time, that is probably a better option.
Azure Landscape
The Azure certification landscape is even more diverse than at AWS. On this link, you can find the full outline.
Azure Solutions Architect Expert
On the Azure side, I only did this one certification. I achieved it in 2021, composed of two exams: one focusing on technologies and one on system design. It is a little different, but the gist is the same. Both exams are multiple choice/response based and contain no hands-on exercises. The exam is valid for one year, but it is easy to renew yearly – it is not like fully retaking the exams.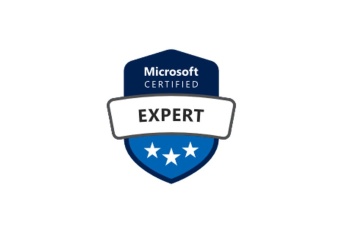 I prepared using "A cloud guru's" course, which I thoroughly recommend because of the included labs. The labs help in putting the material into perspective. The exams felt fair, but sometimes it can be generally said that this certification focuses too much on legacy technologies.
How I prepare
Over the years, I perfected this straightforward and intuitive method when studying for an exam. I always do this, and I consider it an effective way of learning and revising. It consists of two phases: First, preparation, and second, what I call: Exam mode
Preparation
1. Watching the video course

2. Taking notes throughout each lecture

3. Next day: reviewing my notes from the previous day and step 1.
Exam Mode
1. Review my notes

2. Take practice tests

3. Note the tricky questions

4. Review the tricky questions
Exam
Take the exam in the morning!
I found that taking the exam in the morning or at least before noon is the best way for me because if I have the exam in the afternoon, I will spend the whole day studying and get exhausted by the time I get to the exam.
Conclusion
Pursuing a certification in your expertise is one of the best ways to level up your career. It showcases your skills, serves as a pledge of your devotion, and shows that you are willing to do more. It leads to better job offers, higher salaries, and, most importantly, higher craftmanship. You should go for one.
If you have any questions, contact me directly – I am happy to help!